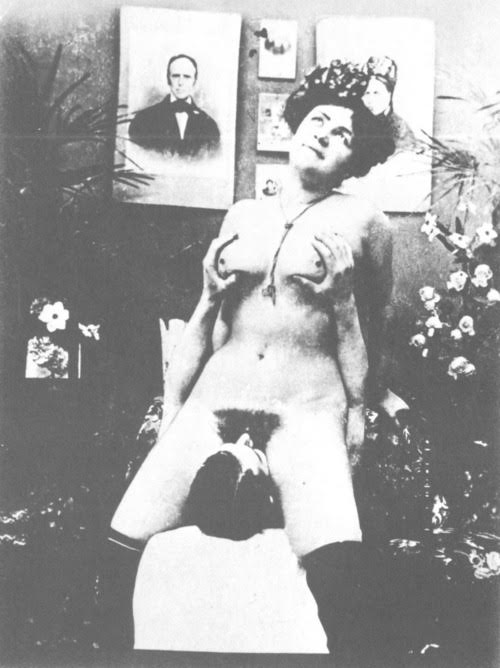 I just masturbated to the thought of sitting on someone's face. I figured whatever came to mind I'd write about. And really, what better way to begin writing about facesitting than right after getting off to the thought.
What is it about the act? Just a few minutes ago before writing these words, I was lying in bed rubbing myself to the thought of my ass coming down gently on a particular face, me "triumphantly" above him, as he often remarks. The pressure and weight of my ass resting on his face, suffocating him temporarily and squeezing my thighs against his neck and head. I like the way he gasps for air as I release his face from the grip of my derriere. The image alone sets off a fantastic wank — a vision of ivory softness, large and overwhelming, looming above his face, which is soon to be smothered into erogenous bliss. I sometimes imagine the image of my own ass, slightly spread, as I get off; this beautiful thing to marvel at! Thankfully, I was blessed with a full-rounded backside that is coveted as one of the best to worship and — more notably — to be underneath, as a professional dominatrix. My ass is that of godliness for some. Men delightfully suffer under the weight of me, and I revel in their incapacitation. The joy of facesitting.
I'm trying to remember my first facesitting fantasy, or my first facesitting experience. I've rode many faces of lovers, but facesitting is especially different. The end goal is not typically orgasm or involving cunni- or anal-lingus (at least not every time), but is more so a way to exercise control over another's breathing: letting them inhale your wonderful scent in a most intimate way using the brute force of the sit.
I think I inadvertently sat on a face my first time. These things happen, accidental power exchanges turned lifelong kinky affairs. It was a drunken encounter around the age of nineteen, a more intuitive and sexual BDSM encounter than a safe/sane/consensual and skillful roll in the proverbial hay. We spent most of the time mopping our bodies around my faux-hardwood floors at 3 a.m. when I ended up hovering over his face and felt him breathing me in deeply, enjoying my evident arousal. And so I sat. To my pleasant surprise, he was enjoying being smothered. Imagine my burgeoning dominant excitement! I continued — up, down… up, down… up, down.
Facesitting is a fantastic way of exercising control and providing erotic closeness. It can be a fetishistic activity and one that relegates the top in the position of highness — The Decider of When You Breathe. All of the focus on depersonalization by way of covering the face, being underneath and thus eliminating their presence — now you see me, now you don't. I can read or listen to music or talk to my damn self — my seat is a seat and nothing more. Outside of a Dominant/submissive (D/s) context, one can also use facesitting as a gateway to forced cunt eating, ass eating, or ball play. The "seat," as "it" were, can be activated by servicing the sitter and providing intimate sexual contact.
"Facesitting isn't conceptually profound, but it makes for directness in the bedroom or dungeon or wherever you decide to fuck du jour."
Facesitting isn't conceptually profound, but it makes for directness in the bedroom or dungeon or wherever you decide to fuck du jour. The psychological implications can certainly be profound, but facesitting itself is not complicated, nor does it require any real prep. Just find an eager consenting little face and sit. You can even invest in a smotherbox or queening chair if facesitting becomes a predominant activity for you and your partner. Just saying the word 'smotherbox' should be enough for a curious party to give it a go with or without accoutrements.
And just as many longstanding lascivious acts are crucified as being despicable teen sex trends by Fox News and OneMillionMoms, facesitting has had a long history. Simply put, it's likely your Grandmother sat on a face at some point and time. This year, UK law banned facesitting in porn alongside other popular fetishes, including female ejaculation. Mistress Absolute, a beloved BDSM practitioner based in London, was among the crowd protesting the outdated law in front of parliament. She facesat in solidarity and drank her morning coffee while doing so. Also notable: there was a man wearing a snorkel rolling out his yoga mat preparing for his personal day of activism alongside Absolute and the other activists. This protest comes off the heels of numerous recent shoutouts being made to femdom, by way of facesitting, via many pop stars including Nicki Minaj and The Weeknd, all of whom have expressed their penchant for the act and the joy it brings. I love facesitting and I'm glad it's being normalized, popularized, and celebrated, debated even. Any press is good press, no?
Lest we forget the pre-Minaj facesitting enthusiasts: Namio Harukawa, working between the late 1960s and 80s, depicted thick R. Crumb-ian women, meticulously rendered/expertly shaded, practically taking up the full-frame of his images and sitting cruelly and confidently on small weak men in various humiliating fashion. The tiny men tend to the women's feet or act as a much needed bar stool, among other utilitarian purposes. Much of Harukawa's work is centered on facesitting, but also includes bondage and human furniture. For more contemporary face to ass depictions, John Stagliano's Buttman magazine does the trick. Although mostly focusing on hardcore, Buttman has some magical moments of smothering within the pages of back issues. I'm a huge Buttman fan and particularly fond of Belladonna, Asa Akira, Alexis Texas, among other anal queens who appeared in the glossy pages. Buttman operated as a catalog of buttstuff, all disciplines included, something for any butt enthusiast. Self-proclaimed buttman Glenn King (once loosely related to the boys of Buttman) is frequently seen with his face firmly planted between the cheeks of big name porn stars such as Aiden Starr and Daisy Ducati on MeanBitches.com and TheKingNetwork.com. He even holds a weekly "TwAss" contest on Twitter where various porn newbies and vets submit photos of their ass for Glenn's loving judgment.
I rejoice when I see a billboard with a giant ass crushing a city, or when a film gratuitously zooms in on a lovely lady's ass (i.e. Lucy Liu in Joseph McGinty Nichol's Charlie's Angels featured in full leather walking down the hallway, leather creaking as she struts). Fuck the curmudgeons, viva la arse! Don't leave me hanging — kiss it, follow it, and for god's sake get underneath it.
Audra Wist is an artist, writer, social commentator and provocateur - she is also an avid collector of erotica and erotic ephemera. She is also a professional dominatrix based in Los Angeles specializing in all sorts of punishment and humiliation. As Autre's sex editor at-large she will be covering all sorts of naughty content in the realm of sex and sexuality – from masturbatorial musings to photographic editorials. Follow Autre on instagram: @AUTREMAGAZINE